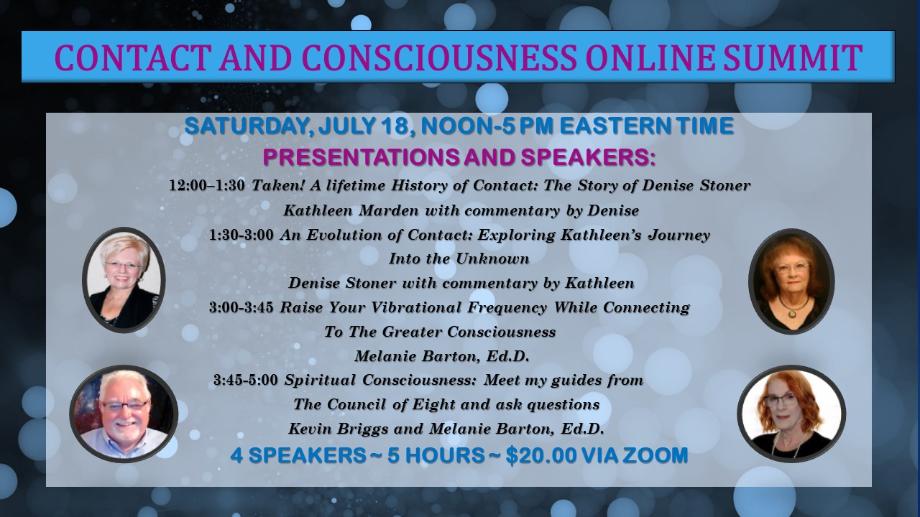 Sign up and pay via PayPal (below). Kathleen will contact you on July 17 with your private code to connect to the Contact and Consciousness Online Summit. Download your free Zoom connection at www.zoom.us.
CONTACT AND CONSCIOUSNESS ONLINE SUMMIT ~ JULY 18 ~ NOON - 5:00 EASTERN TIME VIA ZOOM
$ 20.00 USD
We are living in extraordinary times and this is an extraordinary bargain! Presentations by Kathleen Marden, Denise Stoner, Dr. Melanie Barton and Kevin Briggs. Five hours ~ Four presentations.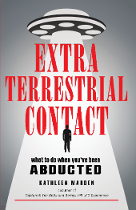 Noon - 1:30 Eastern Time (9:00 AM - 2:00 PM Pacific Time)
Presentation: Join Kathleen Marden on a journey into the life of ET Contact Experiencer Denise Stoner. Denise is a generational experiencer who has lived a lifetime of contact and came out with grace, dignity and wisdom. Learn about her best evidence contact experience. What knowledge has she acquired from the ETs? What did she see on the craft? What entities did she meet? What is her attitude toward those who took her? Meet Denise and ask her anything. She will be happy to answer your questions.
Meet Kathleen: Kathleen Marden is a seasoned investigator of UFO contact with non-human intelligence, the author of several books, a featured on-camera commentator on several TV shows, and an international lecturer. She earned a B.A. degree in social work and worked as an educator and education services coordinator while attending graduate school. She is a practitioner of regression hypnosis and the Quantum Healing Hypnosis Technique. Her interest in UFOs and contact began in 1961, when her aunt and uncle, Betty and Barney Hill had a close encounter and subsequent abduction in New Hampshire's White Mountains. She has been a researcher of UFO contact phenomena since 1990 and is the Mutual UFO Network's (MUFON) Experiencer Research Team's Director since 2011. Her group of 43 specialists offer support, nonjudgmental listening, and referrals to experiencers. She is an advisory board member and consultant to the Edgar Mitchell Foundation for Research into Extraterrestrial and Extraordinary Encounters (FREE). She may be reached at "Contact Kathleen" on the menu. Purchase her autographed books here.

1:30 - 3:00 PM Eastern Time (10:30 AM - Noon Pacific Time)
Presentation:

Denise met Kathleen in 2010 and immediately took an interest in her history as the niece of Betty and Barney Hill. What she didn't know is that Kathleen is a generational experiencer who had a lifetime of trauma to work through. She skillfully worked with Kathleen through hypnosis and support to assist Kathleen in moving beyond fear and into a higher realm of understanding and communication with non-human entities. Denise shares her investigation, hypnosis, and support of Kathleen and speaks of her awakening to a better understanding of her ET family. Learn what they have told Kathleen and ask your questions at the end of Denise's presentation.
Meet Denise: Denise Stoner is proud to be a part of MUFON's Experiencer Research Team (ERT) working under Director Kathleen Marden and Assistant Director Dr. George Medich. She is a FL MUFON's Assistant State Director, State Section Director, and Field Investigator. She co-authored her first published book, The Alien Abduction Files, with Kathleen Marden.Denise has an educational background in business and psychology and is a certified hypnotist specializing in regressive hypnosis using forensic methodology. She holds educational forums for both public and private gatherings for abduction experiencers. Her involvement in the UFO field spans more than 40 years. She also has a special interest in Past Life research. She is retired after 8 years working with National Park Service in Denver, CO, on a special team designing the first national park for Saudi Arabia. This was followed by 12 years doing background investigations on new recruits entering the U.S. Navy in FL. She has appeared on the Travel Channel, PBS, plus numerous radio shows. Denise can be contacted at dmstoner1@gmail.com.
3:00 -3:45 PM Eastern Time (Noon - 12:45 PM Pacific Time)
Presentation: Want to raise your vibrational frequency while connecting to the Greater Consciousness? Join experiencer and psychotherapist Dr. Melanie Barton as she guides us through the process.
Meet Melanie:

Melanie J. Barton, LCSW, Ed.D has a master's degree in social work and a doctorate in pastoral counseling and community development. She has maintained a private holistic psychotherapy practice since 1985. She is an ordained Disciples of Christ (Christian Church) minister with Ecclesiastical Endorsement as a pastoral counselor. Additionally, she has taught at the college level, led multiple types of workshops, consulted with organizations and churches to navigate through transitions including educating them about sexual addiction. As a trained crisis responder, she is called in for debriefing critical incidences in private and governmental agencies. Archived episodes of her two-and-a-half year Internet radio program called The Dr. Melanie Show are available for listening at www.thedrmelanieshow.com. She has written three books The ABCs of Children's Sermons, Quicksand: Marion's Memories Married to a Sex Addict Minister, and Clergy Sexual Misconduct. She has been interviewed on television and radio. She is a MUFON therapy referral source. She may be reached drmelaniebarton@gmail.com or Melanie Barton Bragg on Facebook or on Twitter at Melaniebarton@bartmelly.
3:45 - 5:00 PM Eastern Time (12:45 - 2:00 Pacific Time)
Presentation: Kevin will fascinate and entertain you with his personal history of contact. He has had lifelong interaction from the age of eight, with a group of eight ETs known as the Council of Eight. He will speak of his many experiences including information downloads. He has had many interactions over 58 years, which continue to this day. Recently his ET guides have been including his wife Sandy, so he will include some of those interactions. One is of particular interest because it occurred as he was communicating with a small Grey who was flying by on a craft. The craft appeared and Sandy took a photo. It is a little blurred, but he suspects it was cloaking or moving rapidly. Kevin will conclude his presentation as a conduit between you and a member or members of the Council of Eight, who will be present to answer your questions. Dr. Melanie Barton will lead a short meditation while Kevin conects with the Council of Eight. Come learn with Kevin and his extraterrestrial guides. His guides will answer up to12 questions, so register early, then send your questions to Kathleen at Kmarden@aol.com. (Registered guests only.)
Meet Kevin: Kevin J. Briggs is an author who specializes in consciousness and our connection to ET and UFOs. His recently published book Spiritual Consciousness A Personal Journey covers 57 years of ET contact and UFO connections. Kevin speaks to many groups of UFO and ET enthusiasts. They are always eager to hear of his interactions with NHI and he always receives a warm reception. Kevin's articles have been published in Truth Magazine. His published book was mentioned in the editor's "good read section" of Psychic News (UK). He has written an article about his ET experiences in The New Observations magazine. Kevin has appeared on local radio stations and recently filmed for a TV show Unlocking Your Limitless Life hosted by Susan Shatzer and produced by Robin C Adams. Kevin was also a keynote speaker, in Miami at the FREE Consciousness & Contact Experiencer Conference, hosted by The Edgar Mitchell Foundation for Research into Extraterrestrial and extraordinary Experiences. Kevin was a speaker at the Consciousness and Contact Conference held in July 2019 at The Pine Ridge Reservation in South Dakota. He has been a guest on The Karen Swain Show from Australia and The Kevin Moore Show from the UK. He has appeared on Melisa Kennedy's TV show The UFO Woman, filmed locally in Florida. Kevin is a co-author with Melissa Kennedy and Edgar Yohe of the recently published book Tap Into Universal Energy: Understanding cosmic energy and consciousness. Visit Kevin's website at www.kevinjbriggs.com