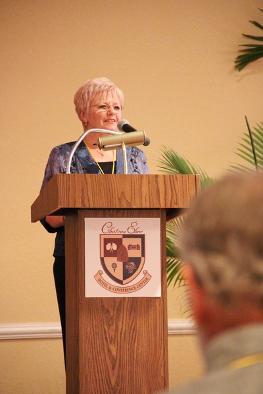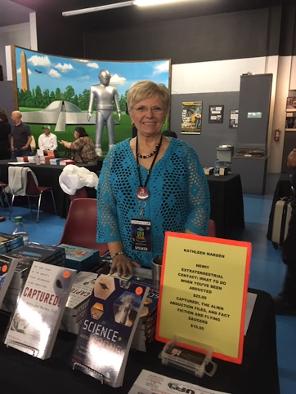 Although there are many UFO Conferences throughout the United States
and the Free World, this page lists
Kathleen Marden's 2023 Conference Lectures
June 3, 2023
Pine Bush UFO Festival
Crawford, NY
Evening lectures are at the

Town of Crawford Senior & Community Center
115 NY-302, Pine Bush, NY 12566
Kathleen's Evening Lecture:
BETTY AND BARNEY HILL AND BEYOND: A DEEP DIVE INTO
ET CONTACT PHENOMENA
Kathleen reviews her aunt and uncle Betty and Barney Hill's UFO close encounter, the aftermath, the evidence, the witnesses,and the hypnosis. Next, she discusses her findings from her latest research and investigations, in a beautifully depicted PowerPoint presentation. Listen to key recordings from the Hills' hypnosis sessions with Dr. Benjamin Simon. See video of the light orb that cured cancer in one of her most interesting cases. Watch amazing video and view enlarged stills of ETs on a mission to abduct three people, in one of her recent investigations.
Scroll down for additional speakers.
Learn more and make additional inquiries at the following: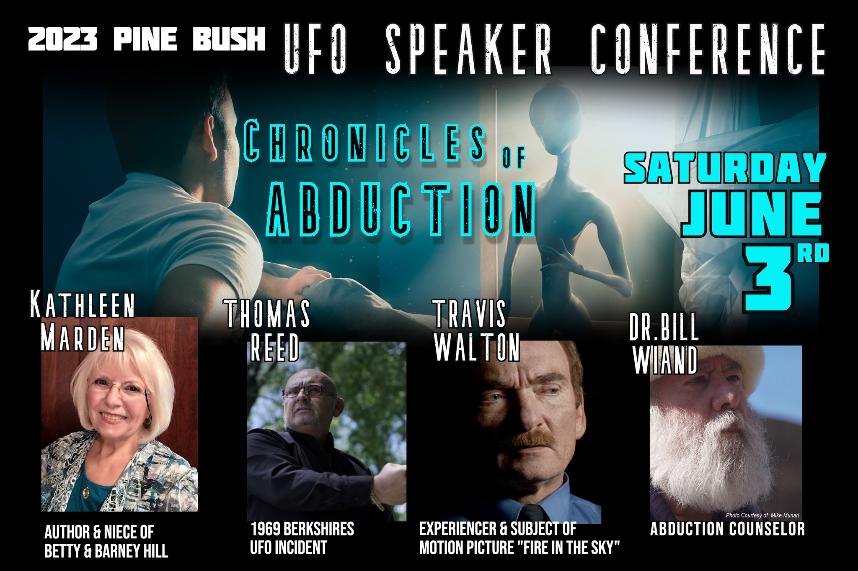 June 30-July 2, 2023
Roswell UFO Festival
Roswell International UFO Museum
114 Main Street, Roswell, New Mexico
All Kathleen's presentations are at the
Roswell International UFO Museum
Kathleen's lectures:
THE BETTY AND BARNEY HILL UFO ABDUCTION: THE DOCUMENTED EVIDENCE AND MEDIA SPIN
The 1961 UFO abduction of Betty and Barney Hill was hidden until the story burst into print media in 1965. This unwelcome exposé generated an explosion of public interest, a bestselling book, and a primetime television movie. Yet, the publicity brought a hoard of spin masters who injected distortion and doubt into an already inaccurate mix. It is not surprising that fact and fiction have caused confusion about what actually happened to the Hills. Their niece, Kathleen Marden, a leading UFO researcher, has spent nearly a lifetime in search of the truth. Don't miss her highly entertaining PowerPoint presentation on what really happened to Betty and Barney.
THE EXTRATERRESTRIAL PRESENCE: FRIEND OR FOE?
No one has all the answers but Kathleen is an inter-generational experiencer who has searched for nearly a lifetime. Prior to 2012, she straddled the uneasy path between scientific materialism and the paraphysical. Then profound events in her personal life radically altered her worldview, transformed her perception of the nature of reality, and initiated a broader approach to her investigations and research. Her new perspective opened pathways to a deeper understanding of the nature of contact and answered many questions: Who are they? Are they really creating hybrids? Are we only lab rats to a superior race or do they have a benevolent interest in us? How do they change us? Do they make us ill? Can they heal us? What are their primary messages to humanity? Kathleen is the founder and Director Emeritus of MUFON's Experiencer Research Team. Additionally, she has worked on three studies on 5,000 experiencers, is a hypnosis practitioner who works exclusively with experiencers, and is the recipient of the 2021 International UFO Congress Lifetime Achievement Award.
See who else is speaking and learn more about the "Ufologist Invasion" at
August 24-27, 2023
MUFON International Symposium
Northern Kentucky Convention Center
1 West River Center Blvd.
Covington, KY
This year's theme is "UFOs: Friend or Foe?"
For additional information or to purchase tickets visit the following:
symposium@mufon.com https://mufonsymposium.com/
1-3:30 PM (Special Event for Purchase at the MUFON Symposium Website)
"My Therapist is an Alien!" by Sev Tok
Plus a panel discussion with Sev Tok,Kathleen Marden, George Medich, MD, and Earl Grey Anderson
Moderated by the remarkable Peter Robbins!
Special Saturday and Sunday Morning Experiencer Support Sessions
Hosted by Earl Grey Anderson, with Dr. George Medich and Kathleen Marden
September 2-3, 2023
Exeter UFO Festival
Exeter Town Hall
Exeter, NH
Communication with Non-Human Intelligence: What are the Implications for Humankind?
Kathleen presents six cases of physical and non-physical contact that she has personally investigated, where significant messages were imparted to each experiencer. Sometimes they varied in accordance with the type of entity that was encountered or the type of contact: physical or non-physical. You will become aware of the most significant commonalities that experiencers share and the major messages that our highly evolved visitors have been attempting to impart to humankind since 1954 in a secret investigation by US and Canadian government officials.
Proceeds from the eventbenefit needy children in the Seacoast New Hampshire area.